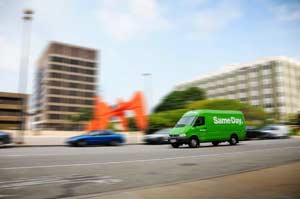 Same Day means predictably reliable delivery. And pleasantly surprising service. We'll get there when we say we will. Over and over again, Same Day means commitment. Committed to excellence. Committed to consistency. Same Day means we will deliver for you beyond expectations. Same Day means saying yes with a smile. Same Day means delivery. Whenever. Wherever.
History
Same Day Delivery, Inc., a Michigan based corporation, was established in 1985 with the foundation of hard work, outstanding customer service, and a single cargo van. Since then, Same Day has grown to a fleet of over one hundred vehicles, including cargo vans, sprinter vans, straight trucks, flatbeds, and tractor trailers and services over a thousand customers throughout the Great Lakes Region and beyond.
Overview
Headquartered in Grand Rapids, Michigan, a live dispatcher is available 24 hours a day, 7 days a week for each and every shipment of yours. Same Day Delivery provides expedited, dedicated, cartage, courier, LTL, P&D, brokerage, and warehousing services throughout the Great Lakes Region. With our over twenty-five years of business experience, dedicated team of employees, professional drivers, late model equipment, and state-of-the-art dispatch technology, we are well equipped to handle any of your logistics needs.
The Same Day Fleet

Contact Information
Same Day Delivery, Inc.
3800 Three Mile Road NW
Grand Rapids, MI 49534
Phone: (616) 791-6400 | Fax: (616) 791-9924
Email: dispatch@sameday.net