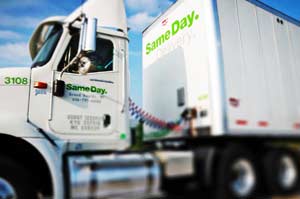 Company Drivers
Same Day Delivery is always looking for professional, courteous, and qualified drivers. For over twenty-five years our team of full- and part-time drivers have been serving our broad, loyal customer base. The majority of our drivers are home nightly and have a regular starting time each day. If you have experience, a clean driving record, and a desire to provide great customer service, we would love to have you join our team at Same Day Delivery.
Owners Operators
If you have a knack for customer service, a clean driving record, and a desire to grow your business, let us help you keep you and your vehicle busy. Whether you prefer short runs or long hauls, we have the customer base and logistics network to improve your business. Partner with us and join our team so that we can grow together.
The Same Day Fleet

Apply To Drive
Are you interested in applying to drive for Same Day Delivery?